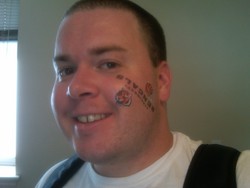 Man
42 years old
Brown Hair
Green Eyes
5 ft. 8 in.
Above Average Build
Never Married
Some College
Shelley, Idaho
Student
Mission: When I am retired
No Temple Recommend
Not Endowed
Seldom Attends Church
0 Children, 0 at home
My Introduction:
Hi and I am hopeful for a good friend to come along.. I have had many penpals and that is really the best way to start out, as if there were options? Phones? Skype? Forums? haha o well .... When I was 30 and I was a student for a couple of years, I was trying for a degree in Dietetics and so to be able to work as a dietician while I go to school for a Medical degree.. Gotta get the Basics!!! I hope that I can meet a really fun person or two so if youd like to send me a message on here or a flirt cause I am a premium member and will be able to make it so you can message me for free! Have a great day and Go for the GOLD!!! Hi oh..anyone use the site?? I been taking things easy now a days though...
My Interests and Hobbies:
I am interested in weight training for strength and Health as I am trying to work on my undergraduate work for dietetics. I then plan on going back to school for my Physical therapy degree and going to school finally for pre-med. I want to go to BYU and am trying my best to get good grades so I can transfer. I like playing sports and hiking and I love watching sporting events like football and basketball. I am very interested in helping people and I know what I like to do when I can have the chance to be in charge, I am very personable and I always try to help people to see that there is a way to be happy! Hiii
Want to write to mikeedro?

Want to write to mikeedro? - Sign up!
Signing up with LDSPals.com is easy and free to join. So sign up today and start connecting with other LDS singles.

---

Last updated: 2023-12-02 :: VIOLET